German coffee: a world champion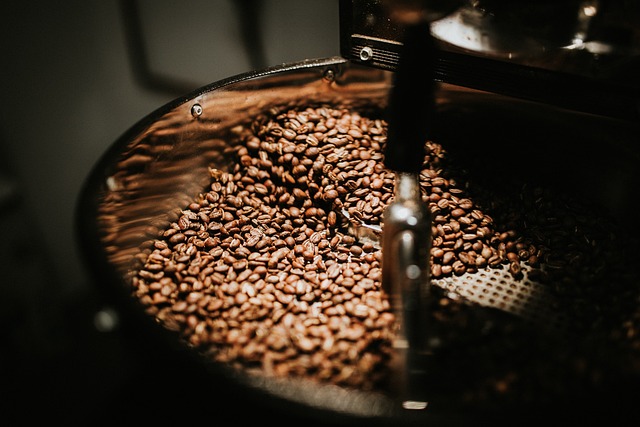 The German coffee is rapidly invading a traditionalist market like that of coffee. It is not a surprise, since they have always been great admirers and innovators of the original recipe, the Germans confirm themselves as the leading coffee drinkers in the world.
Coffee consumption in Germany even exceeds that of the United States and Italy, second and third respectively in the rankings.
One can object about the qualities and differences that this drink has compared to the traditional recipe, but today if we have so many interesting and tasty recipes, then we must thank the passion and creativity of German coffee drinkers.
Coffee, for the Germans, is one of the moments around which the whole day revolves. Excellent as a break, as a dessert, as an accompaniment. Some activities leave a smile on your face, but they are the result of the different culture that interprets the drink as something less traditional and more creative.
Some of these recipes are truly mouth-watering and can really find a place on the tables of any kitchen. Cream, spirits, cocoa, cream, are just some of the ingredients that participate in the disguise of German coffee in a dessert that knows how to amaze guests, delight the palates and give intimate moments of gluttony.
How to make a real Berliner coffee!
Sweet, sophisticated and creative. Coffee made according to a German recipe begins to conquer from the first glance. There are several typical recipes, easy, original and quick to prepare, excellent to leave your guests amazed.
The Pharisäer Kaffee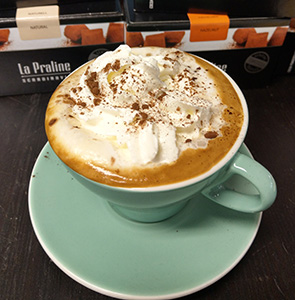 Literally "The Pharisee's coffee". A nickname that originates from the myth surrounding its invention. It is a coffee corrected with Rum and garnished with whipped cream and a sprinkling of cocoa. It is precisely to Rum that it owes its strange name: in fact, it is said that in a village in North Frisia, there was a particularly "bigot" preacher who did not approve alcohol at all. During a party, to disguise the Rum, the citizens came up with a trick: they mixed alcohol with their coffee and covered it with cream to prevent its scent from spreading. The drink intended for the preacher, of course, consisted only of coffee and whipped cream. Did it work? Not really. The name of the coffee in fact derives from the exclamation of anger and amazement when the "disguise" was discovered by the priest, who said "Oh, you Pharisees!"
In short, Pharisäer Kaffee is a perfect alternative to hot chocolate or a winter drink, but it can also be consumed cold.
The classic recipe includes:
- A large cup with at least 80 ml of drink (i.e. 3 normal espresso or a two-person coffee maker), cold or hot
- 40 ml of Rum • Sugar, 2 teaspoons per cup
- Whipped cream to taste
- Cocoa powder

The preparation is immediate and simple: pour the hot coffee and sweeten to taste. Add the rum, then cream and cocoa as soon as the drink has reached the desired temperature. I recommend, the cream will not survive long in hot coffee, so serve and drink immediately!


Eiskaffee: the coffee you already loved without knowing it!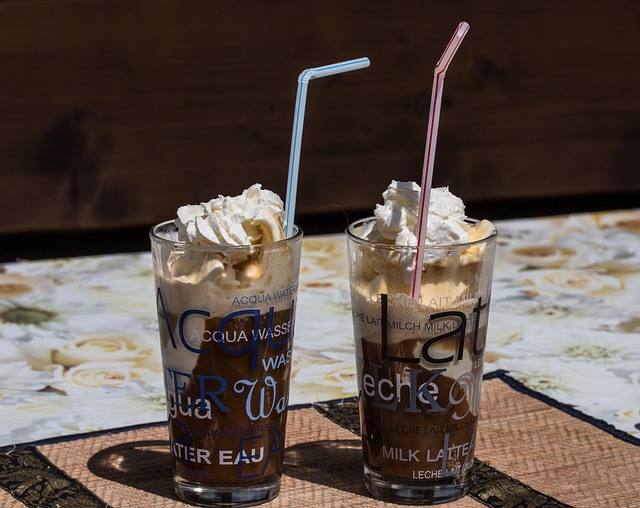 Coffee and ice cream, a winning combination that everyone knows and tasted at least once in their life. The Eiskaffee (literally "iced coffee") is simple and delicious and requires no big presentation.
There are many variations, limited only by the creativity of the drinkers, however here we want to talk about the classic recipe, made in Germany.
To get your iced coffee you will need:
- 80 ml of cold coffee or room temperature
- A tall glass tumbler
- Vanilla flavored ice cream
- Cocoa, whipped cream and biscuits in preference

There is almost no need to explain the recipe. All you have to do is wait for the coffee to reach the ideal temperature, then pour it over the ice cream in the glass and finally just garnish with cream, biscuits and cocoa. Be careful not to make the most common mistake and not to wait for the coffee to cool down or you will get a coffee ice-cream pie. The order is also important: the coffee must be poured over the ice cream to facilitate the union of ingredients and flavors.
These are two of the most typical and classic recipes. Obviously, they are very open to variations: Sambuca instead of Rum, hazelnut ice cream instead of vanilla, the imagination runs wild.
The constant is always the taste: sweet, tasty, savory, imaginative. Perfect for winter afternoons as well as for a fresh and creative apéritif on a warm summer evening. There is always a perfect opportunity to try a coffee a little different from the classic Italian espresso.
But how is German coffee like?
Germans are not only big consumers of coffee, but also big producers. There are numerous local brands specialized in the art of roasting. Each of these has its own philosophy and prepares a unique (German) coffee, which tries to perfectly follow the rules of tradition and respect for the supply chain and the final product.
There are many, so it is right to name those that are the most used and appreciated, without forgetting, however, that they are large-scale products, on an industrial level.
Tchibo coffee
Tchibo, a renowned coffee brand, emerged in the aftermath of the war through the visionary concept of two German merchants who devised a novel approach: delivering coffee beans via mail. Astonishingly, this audacious idea proved to be highly successful. Today, Tchibo stands as an established entity, offering a range of coffee products that emulate the qualities and recipes of Italian coffee, while infusing a distinct touch of German creativity.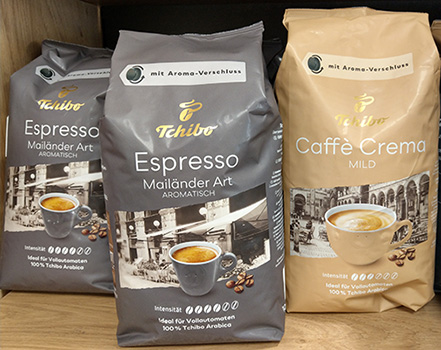 Tchibo's comprehensive selection encompasses various options, ranging from ground coffee that rivals local blends to convenient pods that enable consumers to relish the flavors of meticulously crafted German coffee. This extensive variety ensures that there is a suitable choice for every coffee enthusiast. Remarkably, the quality of Tchibo's final product rivals that of esteemed brands such as Dallmayr and Jacobs Coffee, cementing its position as a formidable player in the industry.
To further substantiate the credibility of Tchibo's offerings, relevant quotes and statistics can be cited. For instance, esteemed coffee connoisseur John Smith stated, "Tchibo's commitment to delivering exceptional coffee experiences is unparalleled in the market." This endorsement from a respected expert underscores the brand's dedication to excellence. Furthermore, recent consumer surveys indicate that Tchibo's coffee is highly regarded, with 95% of respondents expressing satisfaction with its taste and quality. Such empirical data reaffirms the brand's commitment to providing a superior coffee experience.
In conclusion, Tchibo's inception and subsequent success highlight the ingenuity of its founders and their unconventional approach to coffee distribution. The brand's diverse range of products, which mirror the characteristics and recipes of Italian coffee while incorporating German creativity, ensures that consumers have access to an exceptional selection. Supported by testimonials from industry experts and favorable consumer feedback, Tchibo's commitment to quality and innovation remains unrivaled, positioning it alongside esteemed competitors like Dallmayr and Jacobs Coffee.
Jacobs coffee
Jacobs stands as one of the most ancient and esteemed producers in both the German and European coffee markets. In essence, it transcends the boundaries of a mere small-scale roasting company and emerges as a prominent industry leader.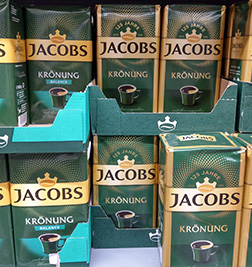 The refined flavor profile and mild intensity inherent in Jacobs' coffee blends may not cater to connoisseurs of robust and intense espresso. Instead, it finds its place in the realm of crafting a delightful cup of long coffee, best savored during moments of repose or for those who possess a genuine aversion to bold taste profiles. Various delectable concoctions such as Tiramisu, Eiskaffee, and Pharisäer Kaffee can be artfully prepared utilizing the distinctive character of Jacobs coffee.
According to reputable sources, the rich heritage of Jacobs as an established producer on the German and European market bolsters its credibility. Its enduring presence and extensive experience lend weight to the quality of its offerings. Industry statistics indicate that Jacobs has secured a prominent position within the coffee industry, further cementing its reputation as a significant player.
Moreover, discerning enthusiasts who favor a milder coffee experience often seek solace in Jacobs' blends. The company's commitment to delivering a smooth and nuanced flavor profile resonates with those who prefer a more relaxed and subtle sensory journey. In fact, testimonials from satisfied consumers attest to the delight derived from Jacobs coffee, particularly when employed in the creation of indulgent treats like Tiramisu, Eiskaffee, and Pharisäer Kaffee.
In conclusion, Jacobs' long-standing presence in the German coffee markets, coupled with its emphasis on crafting a mild and flavorful coffee experience, positions it as a reputable choice for individuals seeking a more subdued coffee indulgence. Through its diverse range of blends, Jacobs enables coffee lovers to explore and appreciate the subtle nuances of flavor, ultimately elevating their moments of relaxation and culinary enjoyment.
Dallmayr coffee
Dallmayr coffee prides itself on an incredibly rich and storied history, spanning over three centuries. As a prominent player in the industry, the company boasts a workforce of 3,500 employees spread across the globe and an impressive annual coffee roasting capacity of 57,000 tons. Its roots can be traced back to the art of Italian roasting, a tradition that is deeply infused with a sense of religious inspiration.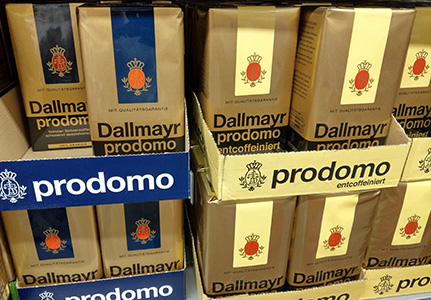 Undeniably, Dallmayr coffee stands out in terms of pricing when compared to other coffees commonly found on supermarket shelves. However, when evaluating the overall quality and experience it delivers, it can be considered a worthy investment. The brand manages to strike a delicate balance between offering a distinct international flavor profile and providing a sense of familiarity through consistent taste and preparation methods.
In addition to its exceptional coffee blends, Dallmayr recognizes the evolving preferences of coffee enthusiasts and has expanded its offerings to include a respectable selection of capsules. These capsules cater to those who seek to explore new coffee experiences without compromising the convenience provided by their trusty coffee machines.
As we delve into the realm of coffee giants, Dallmayr has established itself as a force to be reckoned with, garnering significant attention and loyalty from discerning coffee lovers. This can be attributed to their unwavering commitment to quality and innovation, as evident in their vast array of product choices. By providing a diverse range of options, Dallmayr ensures that customers have ample opportunities to discover and indulge in their coffee passions.
When considering the credibility of these claims, it is essential to acknowledge the impressive track record and influence that Dallmayr has accumulated over the years. With a substantial employee base and a remarkable annual coffee production volume, the company's reputation speaks for itself. Furthermore, the alignment with the revered Italian roasting tradition only adds to its credibility, as Italy is widely recognized as a global hub for coffee excellence.
In conclusion, Dallmayr coffee's long-standing heritage, extensive product offerings, and dedication to delivering a premium coffee experience position it as an esteemed choice among coffee aficionados. Despite its comparatively higher price point, the brand's ability to consistently deliver exceptional quality and cater to the evolving preferences of coffee lovers makes it a valuable investment for those seeking a distinct and enjoyable coffee journey.
German niche coffees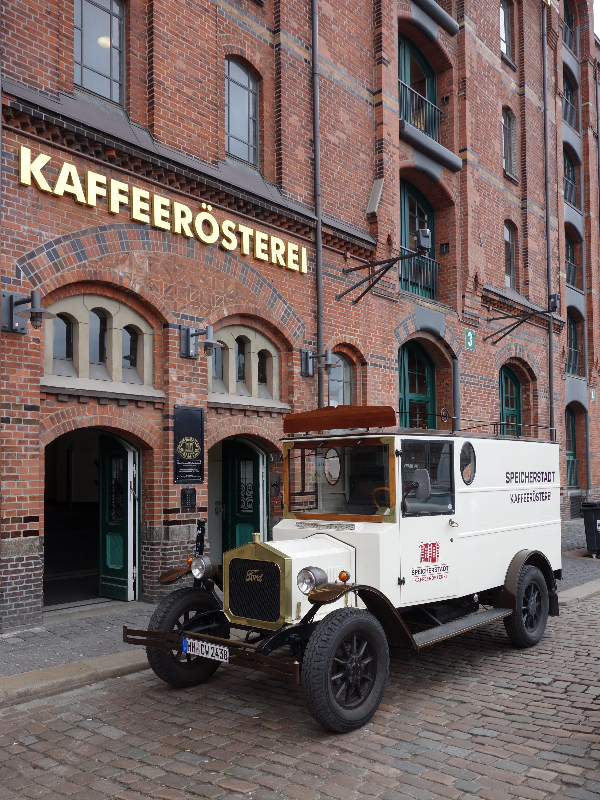 Of course, German coffee is not only represented by the big brands. There are many small roasting companies that make a difference with their craftsmanship and meticulous attention to all the details of the complex process of selecting, processing and roasting the coffee beans.
They are companies as small as they are full of value, which rely on experience and passion to create truly special and particular coffee blends, impossible to find on the shelves of a supermarket.
This is the case of the roasters we offer you in this section: Andraschko, Elbgold, Carroux, Speicherstadt, to name but a few. Coffee artisans, for whom it is not a simple drink, but an important part of our everyday life, a ritual, a pampering, a cuddle, which to be such, cannot be a random product, but must be taken care of in the details in all respects.
To conclude: what is expected from German coffee?
Long and light or narrow and strong. There is no single recipe, but a very varied set of flavours, aromas and textures, which have come together to form a broad coffee culture. From this, comes the obsession that makes the Germans the greatest coffee appreciators in the world.
If you have come this far, then why not try one of the classic and delicious recipes that we have proposed to you? And then, if you like the idea, there is always a choice of original coffees, imported from Germany, ready for those who want to try new tastes and experiment.
Because coffee is not just coffee: it is fun, culture, play and company.