No results were found for the filter!
Do you know CAFFÈ TORALDO?
Toraldo - Napolitan Espresso and Italian life style
Caffè Toraldo: the Neapolitan espresso in the world
Vintage photos Toraldo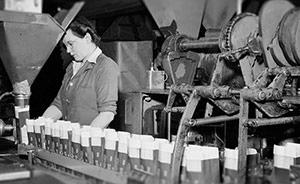 The story of Caffè Toraldo begins like many other Italian stories: in a small shop guided by a great passion and a great vision.
Toraldo, in fact, is the story of three brothers who started out in a small business and decided to face life with courage and determination, to create something of their own.
Toraldo was the surname of their grandmother, a woman completely dedicated to her family and her six children, who passed on to them the enthusiasm of life and the desire to always fight for the goals they wanted to achieve.


The motto of Mario Simonetti, one of the founding partners, which encapsulates the philosophy of Caffè Toraldo is:
"The successful man is the one who succeeds by dint of hard work in turning his fantasies of desire into reality."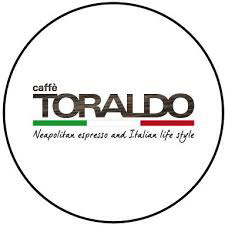 The coffee's name carries this dream along with the values that bind it to its homeland: Naples. The city that, according to many, is the true home of Italian espresso. For this reason, Caffè Toraldo's most important challenge has been to bring a little bit of Naples to tables, offices and bars all over the world with its recipe for perfect coffee.

For over 60 years, Caffè Toraldo has been producing high quality blends, rich not only in taste, but also in their history. In every coffee you can breathe in the scent of the city, with its traditions, its small rituals and a pinch of that typical Neapolitan light-heartedness.

Today Toraldo continues to make this image its flag, but without loosening its grip on the present and with its gaze always turned towards the horizon, ready to innovate and accommodate the needs of all lovers of the fragrant black drink.
Toraldo combines Tradition and Innovation
Every company must be able to adapt to the current times and Toraldo has welcomed all the diversifications of the market. For this reason, a new production plant was inaugurated in 1993.
Glass coffee prepared with Toraldo capsules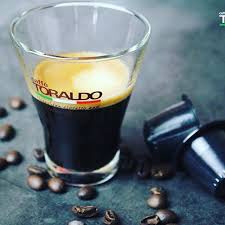 Toraldo coffee is distinguished by its genuine character and the high quality of its blends, composed according to the rules of the Neapolitan roasting process. As its commercials underline in a light and amusing way, from the very first taste Toraldo coffee makes everyone a little Neapolitan.
From the 1960s to the present day, the company has expanded, not only by opening new plants, but also by diversifying its products, developing specific blends for both bars and vending machines, not forgetting of course the ESE pods and capsules suitable for the various extraction systems.
But can a good coffee be served in just any cup? Certainly not! This is why Caffè Toraldo has also thought of offering its line of cups in different sizes.
Thanks to its far-sightedness, the craze for Neapolitan coffee is spreading all over the world: in over 25 countries, including Europe, North Africa and the United States, people are already familiar with Toraldo espresso and with it the wonderful city where it comes from and where it is brewed.
Toraldo: a colour for every taste
The selection of Caffè Tora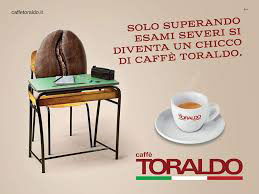 All Toraldo blends are roasted gently over a long period of time at a low temperature until the beans take on a distinctly dark colour and develop a silky sheen. Here, bitter and acidic substances have no chance. A strong aroma and a pronounced, compact body take their place.
Each coffee, each quality blend, is characterized by a unique and recognizable color: from the sweetest Arancio Blend, consisting of 90% Arabica and 10% Robusta, to the most vigorous Bluette, with 60% Arabica and 40% Robusta. These were later joined by the Origini bar blend.
A carefully studied selection of quality, according to the canons of coffee as it is wanted in Naples, the home of traditional espresso and its most demanding connoisseurs.


Only beans that pass rigorous tests will become a Caffè Toraldo bean.
For further information on Caffè Toraldo products please contact us here. or on ☎ 44 20 8089 2233