The Art of Espresso Cups
Ma cu sti mode, oje Bríggeta/ Tazza 'e café parite/ Sotto tenite 'o zzuccaro,/ E 'ncoppa, amara site...
(But with these ways, oh Bridget, you're akin to a coffee cup. Sweetness hidden below, yet atop, you present a bitter front, Roberto Murolo, A Tazza 'E Café).

Echoing through time are the melodies of esteemed Neapolitan composers, who have shaped one of Italy's most historic and unique soundscapes. This illustrious group includes icons like the late Roberto Murolo and Pino Daniele, alongside contemporary luminaries such as Nino D'Angelo and Gigi D'Alessio.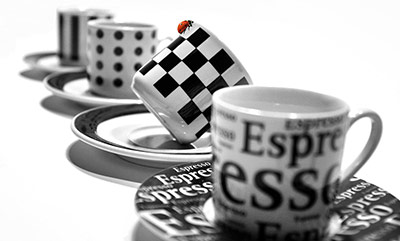 Embedded within these timeless verses, now an indelible part of Italy's melodic heritage, is the depiction of a woman's allure and complexity, likened to a cup of coffee. This metaphor elegantly intertwines Naples' rich tradition of coffee and poetry, celebrating the region's inherent charm and its knack for magnifying beauty in myriad forms.
Central to this lyrical tapestry, surrounded by resonant voices and the hum of strings, is a symbol cherished by both aficionados and casual drinkers worldwide, and particularly revered in Italy: coffee.
Our focus here is on the vessel, the medium, through which this "black ambrosia" graces the lips and delights the palate, be it at dawn, dusk, or in the stillness of night.
The Odyssey of Coffee Cups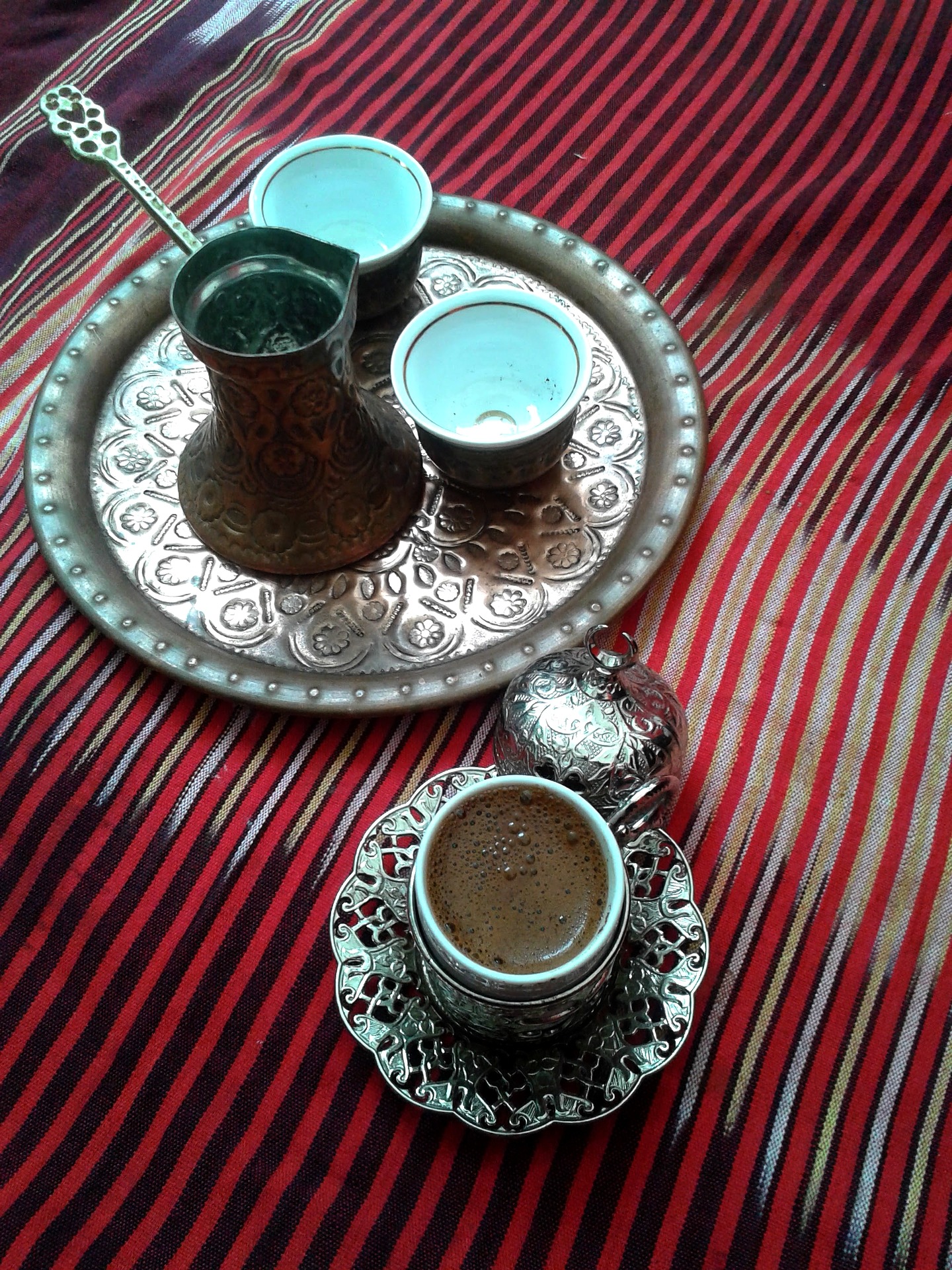 Spanning centuries, the coffee cup has reigned as the quintessential vessel for coffee, eclipsing simpler alternatives like table glasses or ornate goblets. Its porcelain form, more than just a visual delight, plays a crucial role in preserving the coffee's warmth, thereby enriching the brew's flavor to its zenith.

But from whence did this cup originate?

And who crafted its first design, what stories lie in its nomenclature?
The Italian term for cup, 'la tazza', is traced back to the Arabic 'tassah', a traditional drinking vessel in the Middle Eastern tapestry. When delving into coffee's saga, the narrative inevitably leads to Arabian shores, beyond the Mediterranean's embrace.

The Arabica bean, a cornerstone of today's coffee culture, mirrors this geographical journey. The proliferation of the coffee cup across Europe is believed to have begun during the Middle Ages, notably during the era of the Crusades.
Historical chronicles suggest that by the 15th and 16th centuries, European table settings already featured coffee cups, uniquely shaped with a narrower base than top, sometimes lidded, yet handleless. Adorned in an array of motifs, from geometric patterns to floral art, they heralded the advent of coffee in Europe during the 17th century.
The Enigmatic Usage of Coffee Cups
In contemporary times, coffee cups are part of a set, complete with a metal or simpler plastic spoon and a saucer, typically mirroring the cup's design in color and material. However, this was not always so. The emergence of coffee cups in Europe in the 15th and 16th centuries was not accompanied by saucers until the 18th century. This later introduction sparked a peculiar practice — using the saucer to cool the coffee before consumption, a notion that seems almost whimsical today.

The term 'cup' has long been synonymous with coffee containers. Yet, the familiar coffee cup of today was a mid-18th century invention by the British artisan Josiah Wedgwood, who mastered the art of majolica. The term tazzini, often misconstrued as a diminutive of 'tazza', actually originates from Luigi Tazzini, an Italian innovator who played a pivotal role in shaping the modern coffee cup.
Tazzini designed various cups, each crafted for specific beverages, from 'el tazzinin' for espresso, 'el tazzin' for wine, to 'la tazzinetta' for milk coffee. His creations were a testament to meticulous craftsmanship, utilizing specialized materials and techniques to enhance the espresso experience.
The Importance of the right espresso cups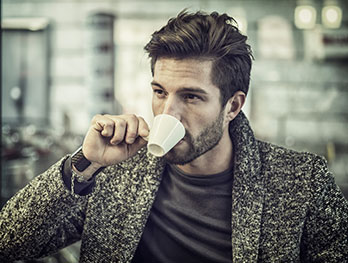 Espresso cups are the first thing a true Italian Espresso lover sees when he or she wakes up, and they are the perfect companions for every moment of break and relaxation, alone or in company, at work or in leisure time. From the inside, they release the taste and aromas of a boiling blend of exotic beans, ground and extracted at high temperature. The result of this harmony gives a tasty and elegant break, the right step to start the day with sprint. Be careful though, all this is only possible if you use the perfect espresso cup for your needs. Espressocups are not only used to hold the drink but also to enhance its taste, color, aroma and flavor. The right cup has a balance between design and practicality, which is why it is essential to use the perfect cup, to make the most of this heavenly moment.


The perfect espresso cup

Like many other kitchen objects used all over the world, coffee cups are the fruit of Italian passion and ingenuity. They are simple only in appearance; in fact, their shape is carefully studied to enhance the drink they contain. Their ideal shape means they are narrower at the base, with a curved bottom to facilitate the raising of the creama, wider at the top to release and amplify the aromas and with a well-proportioned handle to facilitate a firm grip without any inconvenience. Each cup, of course, must be accompanied by the right saucer, which serves to collect any drops of coffee spilled and to support the spoon. The important thing is that each cup has the right properties.
The best espresso cups are those made of thick glazed ceramic, perfect because they do not alter the taste of the coffee and because they maintain the optimal temperature of the contained drink for as long as possible. Each coffee cup can contain from 40 to 50 ml of beverage: the ideal size if we keep in mind that the classic espresso is only 25 ml. The extra space serves to prevent the coffee from spilling out when the spoon is dipped or when a larger quantity of drink is poured, for example for a long coffee or a macchiato.


A new espresso cup set for a new experience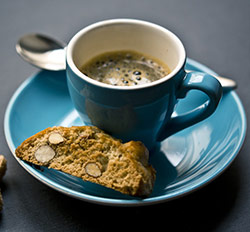 There are several ways to drink coffee. There are those who prefer a small espresso, those who prefer to stretch it with a little milk or boiling water, those who enjoy it bitter and those who need sugar. Coffee is love, and we know that the heart is not in command, so everyone has the freedom to taste it as they wish. Coffee cups are also designed to meet different needs. They can be larger, smaller, colorful, white, decorated, round, or square. The important thing is that the character of each cup reflects the personality and character of the person who uses it. A set of new coffee cups is the ideal gift, for yourself or for friends and relatives who love coffee. We must not underestimate the value that a new service can bring to our tables.
From the beautiful, understated, soft, rounded lines of the classic cup to the more extravagant lines of modern cups, a new set can add that touch of originality, art and color that our kitchen needs. It can break the monotony and renew the coffee experience. It can finally replace the old set of which we do not even have all the pieces anymore. In conclusion, we can say that having the perfect cup brings advantages in many ways: it will make your coffee break more enjoyable, decorate and complete your kitchen and capture the attention of your guests.
---
Espressocups & Espresso Coffee Cups
Across the globe, the espresso reigns as a cherished coffee variant, a staple in the daily rituals of countless individuals. Crafted through the art of pressing hot water through finely ground coffee at high pressure, espresso delights with its rich brew and its signature golden-brown crema. Integral to this beloved beverage is the espresso cup, a silent yet significant partner in the espresso experience.
In the ensuing narrative, we'll explore the myriad facets of an espresso cup, crucial for any aficionado.

Espresso Cup - A Crucial Element or Mere Accessory?
The flavor profile of espresso, a longstanding highlight in the coffee landscape, is inextricably linked to the choice of espresso cup. More than just a visual treat, the right espresso cup is a key player in the ensuing sensory indulgence.
The preparation and the cup's geometry are pivotal to the espresso's taste, affectionately dubbed "Caffe" in its Italian homeland. Amidst a sea of choices, we have curated a selection of only the finest espresso cups, ensuring quality in every sip.
Which cup is the right one for you? Let us guide you through some key considerations.
Espressocups - All you need to know
The quest for the ideal espresso cup, given the plethora of options, can be a delightful yet intricate journey. Here, we unfold various criteria to guide you in selecting a cup that perfectly aligns with your espresso aspirations.
The shape of an espresso cup plays a pivotal role due to the "crema" (the golden-brown foam). Ideally, the cup's top diameter should exceed its base, allowing the crema to unfurl gracefully, creating a delicate halo around the rim. Your personal preference also has a say, offering a spectrum of shapes and hues to choose from.
An espresso cup's capacity, ranging between 50ml and 90ml, is crucial. With traditional espresso using 25-30ml of water, this volume ensures ample room for the crema and, if desired, a dash of frothed milk to brim the cup.
Experiencing a pleasant sensation upon holding the cup is essential for an enjoyable drinking experience, making comfort a key factor in your choice.
Espressocups should typically feature a "thick" wall, aiding in maintaining the warmth of the espresso. We recommend a brewing temperature of 86-95°C, variable with the bean's roast. Pre-warming the cup with boiled water for about a minute before brewing enhances the experience.
Espresso cups are commonly crafted from glass or porcelain. Investing in high-quality cups is worthwhile, as they can be cherished for years, transforming into a long-term investment.

Feel free to explore the espresso cups in our collection; we're confident you'll find one that suits your taste.
The production of porcelain espresso cups and saucer sets
Ever pondered the creation of these porcelain wonders? What distinguishes them from other cups? What materials birth these elegant vessels?
We invite you to unravel these mysteries in the narrative below.
What do Espresso cups consist of?
The genesis of porcelain:

Porcelain espresso or cappuccino cups are born from a trinity of elements: kaolin, quartz, and feldspar.

Half of the cup's composition is kaolin, also known as aluminum silicate or porcelain earth. Comprising silicon oxide and aluminum oxide, its purity varies based on geographical origin and cultivation conditions.
About a quarter of the cup is quartz, or silicon dioxide. In simpler terms, it's akin to the quartz sand found in rural locales, serving roles in porcelain creation and industries like cement and glass.
Feldspar makes up the remaining quarter, a silicate mineral laden with elements like aluminum, sodium, and barium.
How are Espresso cups crafted?
The raw minerals are often purified, then ground and blended. Each manufacturer may add other substances like casting materials, pivotal in shaping the final espresso cups.

The saucers of the espresso cups
For saucers, an automatic lathe spins them into existence, while cups take shape through casting. In this process, liquid porcelain fills a cup-shaped mold. After setting, the cups are freed, awaiting the addition of their handles, attached with a similar porcelain mixture.
Saucers are also molded from raw porcelain. Precision and care are key in their removal from the mold, especially for designs with off-center resting surfaces, which require a particularly steady hand.
Saucers with a central resting surface are generally simpler to manufacture than their off-center counterparts.
The Cup's Handle: A Crucial Element
The handle is a critical part of the cup, demanding the utmost attention and skill. Perfecting the handles' straightness and correct positioning is a task of precision and focus. The transition from grip to handle must be seamless and well-executed. Insufficiently attached handles can lead to unsightly gaps and increase the likelihood of an early break.
Throughout this stage, the handle's interior is diligently inspected and refined as needed.


Firing Process of the Cups
Post-molding, cups undergo their initial kiln firing at temperatures ranging from 900-1000°C for 17-20 hours. This leaves the cups somewhat coarse and delicate.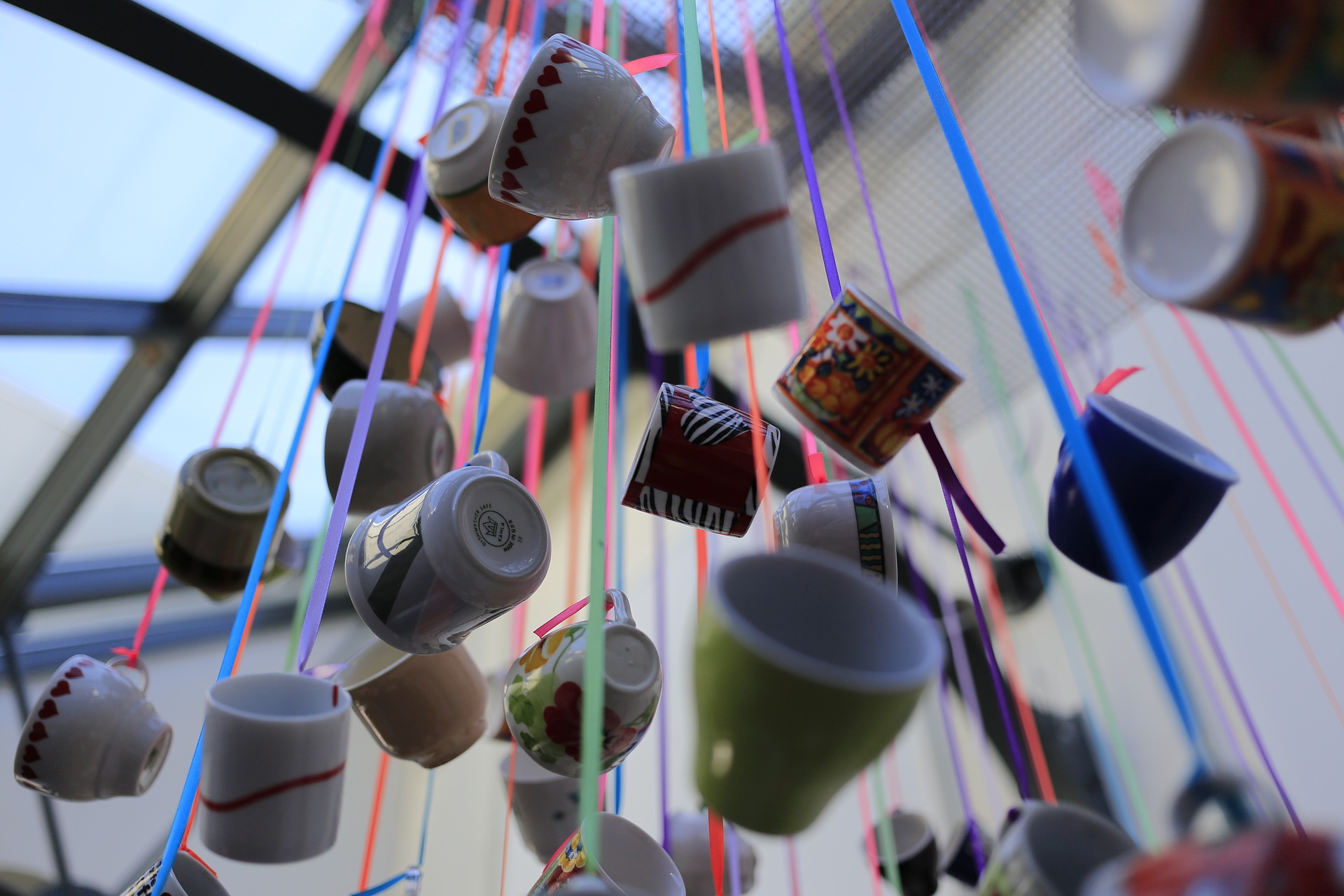 Firing Process of the Cups
Post-molding, cups undergo their initial kiln firing at temperatures ranging from 900-1000°C for 17-20 hours. This leaves the cups somewhat coarse and delicate.

Mocha Cups: A Turkish/Greek Specialty
Turkish mocha cups are characteristically thick-walled to accommodate the high temperature of the served mocha, which in Turkey contains about 130mg of caffeine. These cups often feature oriental designs and inscriptions. They can be encased in zamac, a zinc-copper alloy, or made solely from it, sometimes topped with a lid resembling an oriental dome.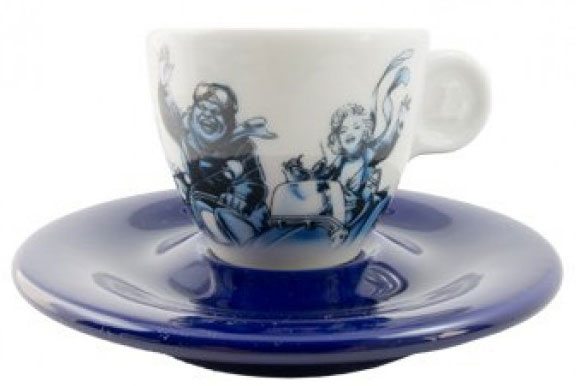 Traditional Greek mocha cups are predominantly white, lacking a hole in the handle, and are accompanied by a matching saucer and spoon. Variations with motifs and inscriptions exist, with the plain white representing the Greek standard.
Choosing Espresso Cup Sets for Any Occasion: Your Guide
For the ultimate coffee experience, explore our diverse range of cups in various shapes and designs. Our collection includes classic porcelain cups with round or square handles and transparent glass espresso cups for a clear view of your coffee. Many renowned coffee companies have expanded their offerings to include specialized coffee cup production.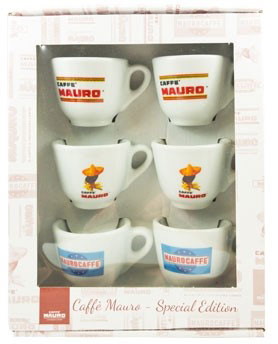 Brands like Lucaffè, Essse Masini, La Tazza d'oro, Lavazza, and others offer a wide selection.

For those desiring a vintage aesthetic, the Vintage cup set from Caffè Mauro is an ideal option.
Espresso Cup Sets as Gifts
Featured is the Mauro set, a perfect gift for enhancing any coffee break, be it at home or in the office.
Our selection includes classic white espresso cups, vibrant brown espresso cups, and designer espresso cups.
For those less concerned about cup thickness and more interested in unique designs, consider the artistic cups from Lucaffè. Remember, the ideal cup has a wider top to foster the formation of the perfect golden-brown crema. For a cohesive set, it's advisable to purchase cups and saucers from the same manufacturer to ensure a perfect fit and stability.
From the elegant, soft curves of classic mugs to the bold lines of modern designs, a new espresso cup set can inject originality, artistry, and color into your kitchen, breaking the monotony and rejuvenating your coffee routine. It's the perfect time to replace that old set with missing pieces.
We believe the right cup should resonate with your personal taste, and we hope our extensive selection and tips will assist you in finding the perfect match.


Exploring the Variety of Coffee Cups
Every coffee brand not only offers unique coffee blends but also an array of distinctive coffee cups, complete with saucers and spoons. These range from simple and monochromatic designs, showcasing the natural elegance of porcelain, to more elaborate creations adorned with special decorations. Inspired by various historical periods, seasons, natural elements, geometric figures, and imaginative forms, the diversity in coffee cups caters to every preference, no matter how particular.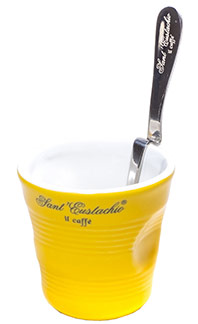 A standout piece in the market is the ceramic coffee cup by Sant'Eustachio. Notable for its bright yellow hue, it features external ribbing reminiscent of plastic vending machine containers, blending practicality with aesthetic appeal. Accompanying this is a uniquely curved spoon, designed by the company, that rests on the cup's rim like an owl on the lookout.

More understated in appearance but pioneering in design are the coffee cups by Club House. Their simple exterior belies the 15 years of expertise and advanced 3D rendering techniques behind them, offering a guide into coffee preparation. Available in blue, purple, grey, or yellow, they also offer customization options on the company website for decorations both above and below the glaze.

Lucaffè cups are a collector's dream. The Brescian company crafts its coffee cups with exceptional style and quality, catering to detail aficionados. Among their offerings are cups inspired by renowned manga and comic artist Milo Manara, and another featuring an iconic image from the Godfather in white against a brown background.

The Julius Meinl cup, designed by Matteo Thun, epitomizes classicism and innovation. These cups from the Austrian brand are crafted to preserve the full aroma and delicate flavor of coffee.

In essence, a coffee cup is a fusion of tradition, cutting-edge techniques, and modern creativity. It embodies the art of taste and design, from the ceramic crafting of the cup itself to the detailed illustrations adorning its surface. Each coffee blend deserves a cup that complements and enhances its character.


We hope that this extensive array of information and tips has been helpful in guiding you to a coffee cup that resonates with your personal taste.
To sum up, the ideal cup enhances your coffee experience in multiple ways: it elevates the pleasure of your coffee break, adds aesthetic value to your kitchen, and becomes a conversation starter with guests.
Our customer service team is ready to assist with your espresso cup inquiries.
For any additional questions, feel free to reach out to us at +49 40 822 4567 90.

Key Takeaways for the Ideal Coffee Experience
Preheat your espresso cups before brewing to maintain the coffee's flavor for a longer period.
Pro tip: Keep the espresso cups atop the espresso machine for convenient warming.
If the cup's base is overly broad, it leads to quicker cooling of the espresso and suboptimal crema formation.
Cups with a "thicker" body retain heat better, enhancing the warmth of your drink. Yet, excessively thick cups can hinder the drinking experience. Opt for cups with slightly tapered edges for comfort.
Choose a design that resonates with your style, ensuring a perfect blend of functionality and elegance.