No results were found for the filter!
Caffè Trucillo - Since 1950 in Salerno.
Then, as now, the mission is undoubtedly the production of high quality coffee, but above all the dissemination of the culture of high quality Italian espresso coffee.
Founder Trucillo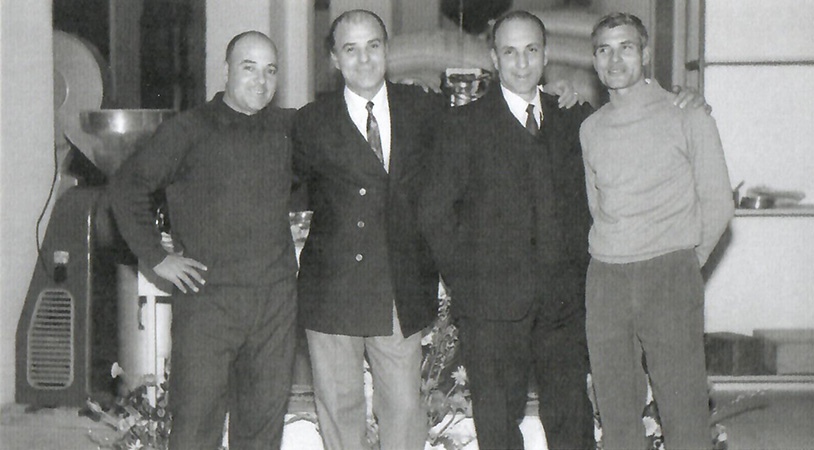 The story of Trucillo Caffè begins more than 70 years ago, when founder Cesare Trucillo discovers his passion for coffee roasting. In 1950, Cesare began roasting green coffee at his home near the Amalfi Coast. He then packaged this in paper bags and delivered it to nearby bars and also friends. The coffee quickly became very popular and after a few years Caffè Moka Salerno was born.
Matteo Trucillo, Cesare's son, also joined the company some time later and showed great commitment to following his father's path. In order for the company to be associated with the family name and its values, Matteo changed the name from Caffè Moka Salerno to Cesare Trucillo Spa in 1988.
Trucillo always strives for the best possible quality of its products, creating blends that are adapted to the most varied expectations and needs of consumers. A condition that can only be achieved if each member of the team contributes to the production with ambition and passion. Every step, from the sourcing of the green coffee to the packaging of the roasted beans, is carried out with the utmost thoroughness.

Trucillo sources the high-quality Arabica and Robusta beans for its unique blends from growing countries on three continents. Central & South America, Africa and Asia. There, the most immaculate beans are selected and then prepared for their onward transport to Italy.

With frequent quality controls of the green coffee and the finished end product the desired constant quality of the Trucillo coffees can be ensured.
In this way, Trucillo Caffè, with its principles of tradition, innovation, know-how and passion for quality, has already earned a secure place in the market in more than 30 countries around the world.
The careful selection of beans from up to seven varieties in a blend, coupled with the gentle roasting process achieves a result that is characterized by velvety body, floral to chocolaty flavors and long-lasting crema.