Certified Italian Espresso - Espresso Italiano
Espresso was invented a long time ago in Italy and is now appreciated all over the world. At the root of it are mainly economic interests. However, from the very beginning, there have been people who have passed on their profound knowledge of roasting coffee for espresso from generation to generation. These people want to protect the great heritage of the unique Italian espresso culture.
What exactly does Certified Italian Espresso look like? (description site INEI
"A cup with about 25 millilitres of coffee decorated with a consistent, finely textured cream, hazelnut to dark brown in colour, brought to life by tawny highlights. The aroma should be intense and rich with notes of flowers, fruit, chocolate and toasted bread. In the mouth, the espresso should be full-bodied and velvety, appropriately bitter and never astringent. This is what thousands of consumer tests and dozens of tests with professional tasters have shown. And this is what has been codified in the Certified Italian Espresso conformity profile."

The history of INEI Espresso Italiano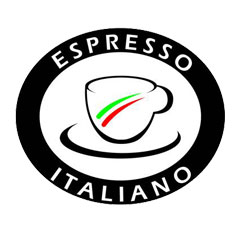 Since 1998, after three years of research aimed at creating and serving the quality expected by espresso drinkers, the Italian Espresso National Institute has been assessing the quality of espresso through sensory certification. This is possible thanks to the International Institute of Coffee Tasters and the Tasters Study Centre, with the collaboration of professors from the Universities of Udine and Turin. The Italian Espresso Institute, which includes roasting companies, coffee machine and grinder manufacturers and other related companies, protects and promotes the culture of quality Italian espresso coffee and cappuccino. To date, the Institute has 34 member companies, with an aggregate turnover of around 700 million euros.
Excellent espresso is not the result of a simple mechanical process, but a product that reflects the passion and know-how of the people who created it. The institute's mission is to explicitly preserve and promote this quality standard. The seal is intended to provide espresso lovers with a reference and benchmark for judging different coffee blends, which often have little to do with real espresso.
Standards for evaluating an espresso of the highest quality
Since its foundation, or even well before, INEI's aim has always been to define a particularly good and authentic level of espresso quality. In collaboration with the International Coffee Institute, coffee tasting experts and professors from the Universities of Udine and Turin, as well as thousands of consumer and laboratory tests, the objective and measurable characteristics of a true Italian espresso have been obtained. To achieve the high quality required to obtain this certification, it is necessary to use a qualified coffee blend, qualified processing equipment (grinder-dispensers, coffee machine) and the employment of qualified personnel.
Each espresso is subjected to strict control. Percolation, color, aroma, taste, and persistence are some of the measured values that, according to the opinions of hundreds of professional tasters, must comply with the parameters set by the classic recipe.
Behind each cup is a world of variables that an amateur drinker might overlook, but which are carefully assessed by expert tasters to establish the quality of the Espresso.
It starts with measuring the temperature of the water and the cup, which must be around 88 and 67 degrees respectively. Water pressure, amount of mixture, and percolation time are other very important factors, a good coffee will be ready in 25 seconds.
There are other chemical factors that are taken into account, but what counts above all is the amount of distilled drink: 25 ml.
When consumers see the label "Espresso Italiano", they can be sure that all criteria have been checked and tested. This espresso meets the highest expectations.
Thanks to the efforts of numerous roasters and baristas from all over the world, the culture of Italian espresso is spreading to every city on the globe. If we can enjoy an INEI-certified espresso in Dubai, New York, or perhaps Beijing, it is because behind the scenes there is the work of thousands of passionate people who are committed to promoting and guaranteeing Italian quality in every cup.
Some of our roasters are among the brands that are part of the Institute and they have excellent Espresso Italiano blends, such as Essse Caffè, La Genovese, Schreyögg Alps Coffee, Mokarico, Jolly, Filicori Zecchini.